Priya Prakash Varrier – Roshan Abdul Rahoof Recreate Scenes From Oru Adaar Love Song At A Kochi Mall; Send Fans Into A Frenzy (Video)
What's better than watching the viral clips of Priya Prakash Varrier and Roshan Abdul Rahoof channeling some old school romance in Manikya Malaraya Poovi song? To watch the two young internet sensations to recreate the scenes from Oru Adaar Love song as you watch them live! Wouldn't you agree? And fans of the two young actors in Kochi got lucky this evening as they got to witness the magical moments.
Priya and Roshan were the special guests of the evening at the mall, where the Flower Festival 2018 is being held. The two were thronged by a sea of fans as they arrived at the venue. The cameras couldn't stop clicking while fans couldn't hold their excitement to see these viral stars right in front of them. After a special request, the two were sporting enough to recreate the scenes from their viral clips and that certainly put their fans into a frenzy. Check out the video below to witness the madness yourself.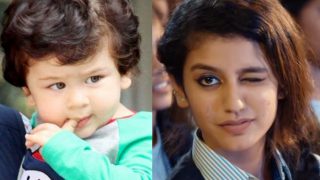 Even as the two continue to steal hearts with the views on their videos and film's teaser increasing by the minute, their film Oru Adaar Love is in trouble with some Muslim religious outfits raising an objection to the content of the song Manikya Malaraya Poovi. While they claim that the song's lyrics hurt the sentiments of their community, director Omar Lulu has said that the song is a popular folklore song, sung in Muslim weddings in Kerala and there is nothing derogatory or demeaning about it.
Reportedly, Kerala Chief Minister Pinarayi Vijayan also came out in support of the song and the film and said, "The song, written by PM Jabbar and sung by Thalassery Rafeeq, was broadcasted by Akashvani in 1978. But it was the renowned Mappila singer Eranjoli Moosa who gave the song its popularity. The song has been sung at Muslim houses, especially during weddings, for decades now. Those who have listened to the song know that it's a nice Mappila song. The theme of the song is Prophet Mohammed's love and his wedding with Khadeeja Biwi."
Well, we just hope that all the doubts and confusion around the song are cleared and the film faces no roadblocks in its release. Fans would definitely not want any delays in seeing Oru Adaar Love reach the screens, haina?
Source: India Showbiz