Not Just Taimur, Everyone Now Recognises His Maid As Well: Randhir Kapoor Lashes Out At The Paparazzi Culture
Of late, star kids have been hogging limelight. Thanks to social media, none of their new pictures fail to go viral. The paparazzi culture, so far a thing of the west, has taken over Bollywood and how. Talking about the same, Taimur Ali Khan's grand father and Kareena Kapoor Khan's father Randhir Kapoor lashed out at the papz and how they have been robbing star kids of a normal childhood. He also said how he wakes up to find pictures of his little grandson in the newspapers.
At a recent event, Randhir said, "Certainly, it (normalcy in childhood) has been robbed. Everyday, I get up in the morning and I see a picture of my grandson in newspapers. Now everyone recognises his maid also! That's because of the paparazzi." The veteran actor was attending the Raj Kapoor Awards for Excellence in Entertainment along with his brothers Rishi Kapoor and Rajiv Kapoor where he talked about the papz culture during a panel discussion.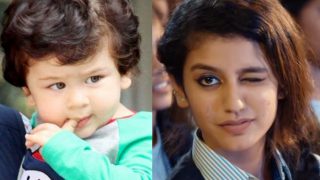 There are no two ways about how popular little guy Taimur is. He has fan clubs dedicated to him on social media and he is the star attraction where ever he goes. Be it Adira Chopra's second birthday celebration or Karan Johar's twins Roohi and Yash Johar's first birthday bash, it was Taimur and his pictures that went viral more than anyone else's.
Of late, he has started going to a play school-cum-kids gym and therefore he is out and about more often, giving media ample opportunity to click his pictures and write about him on almost a daily basis. But considering how loved the cutie is, we are unsure of this overdose of attention to Taimur will stop anytime soon. Haina?
Source: India Showbiz