Bromance 2.0: You Can't Miss Ranveer Singh's Comment On Padmaavat Co-Star Jim Sarbh's Picture
Weeks after its release Padmaavat continues to be the talk of the town. As on Tuesday, the Sanjay Leela Bhansali magnum opus has made Rs 260.75 crore (India Business). Ranveer Singh, who played the menacing Alauddin Khilji in the film received the most accolades for his role. While he shared no scene with her real life lady love Deepika Padukone in the film, his chemistry with Jim Sarabh who played Malik Kafur in the period drama was loved. It was beautiful, subtle and a step ahead in portraying gay love on screen.
And now, Ranveer has taken his bromance with his Padmaavat co-star a step ahead and in time for Valentine's Day. In the film, we saw how Malik was not only the closest confidante to Alauddin but also lusted after him. So when Jim Sarabh posted a picture of him from the film and captioned it, "Aur Kuch?", the term he used suggestively throughout his scenes with Ranveer's Alauddin, the superstar was quick to comment on it. Ranveer had just two words for Jim – "Sex Panther."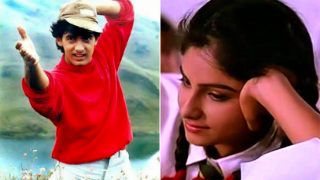 If this isn't bromance 2.0, we don't know what is. We could have expected no one else but Ranveer to do something like this. The guy is unabashed when it comes to expressing himself and his feelings. He has never shied away from talking about his fondness for his first co-star Anushka Sharma; or his immense love for girlfriend Deepika Padukone. So it is little surprise that he didn't care about saying something offscreen that would carry hints of the onscreen chemistry between him and his co-star. And with that, we have just fallen in love with Ranveer a tad bit more. Haina?
Source: India Showbiz